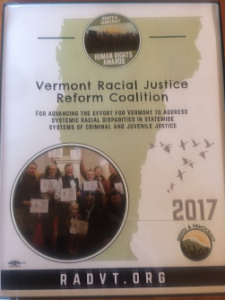 FOR IMMEDIATE RELEASE 
Contact: Erin Rose, Justice For All Outreach Director: 802.272.8392
Racial Justice Reform Coalition Receives Human Rights Award
Montpelier, Vermont, December 19, 2017 – The Racial Justice Reform Coalition, an organization anchored by Justice For All, a Vermont racial justice organization announced that it received a Human Rights Award from the Rights and Democracy Educational Fund on December 10, 2017.  James Haslam, Rights and Democracy Executive Director said that, "this was a logical choice, given societal impact of systemic racism both nationally and in Vermont".  James Duff Lyall, Executive Director of the Vermont ACLU, a member of the Coalition agreed, ""It's critically important that we build on concentrated and sustained efforts to mitigate systemic racism in Vermont—and that we take action."
The Award was for "Advancing the effort for Vermont to address systemic racial disparities in Statewide systems of criminal and juvenile justice." ACT 54, Racial Disparities in the Criminal and Juvenile Justice System Advisory Panel, created an advisory panel to address systemic racism in the criminal and juvenile justice systems and empowered the Attorney General and the Human Rights Commission to make recommendations to address the same across all other systems. The Fair and Impartial Policing Policy was addressed in the legislation as well. Ellen Shwartz, President of the Vermont Worker's Center, a member organization of the Coalition said "the passage of this law is a public acknowledgement that systemic racism exists…we need to ensure that Vermont is uprooting systemic racism not only in our justice system, but also in other areas…"
The Racial Justice Reform Coalition has remained active in monitoring Act 54 implementation and undertaking other initiatives related to racial justice reform in Vermont. A Racial Justice Reform Coalition Winter Gathering will take place on December 21st in the Montpelier Room at
the Capitol Plaza Hotel at 4:00 PM. to acknowledge the work and unveil the 2018 Legislative Agenda. There will be refreshments, live music and a cash bar. The event is being announced as being open to the public. "Racial discrimination crosses all lines, including disability and the intersection of discrimination of people with disabilities who are also people of color continues to be problematic. Real solutions, like that of a continued legislative platform offers hope that will allow us to look at data and combat this problem openly and together" said Sarah Launderville, Executive Director of Vermont Center for Independent Living, another Coalition organization.
###
About Justice For All
Justice for All pursues racial justice within Vermont's criminal justice system through advocacy, education, and relationship-building.