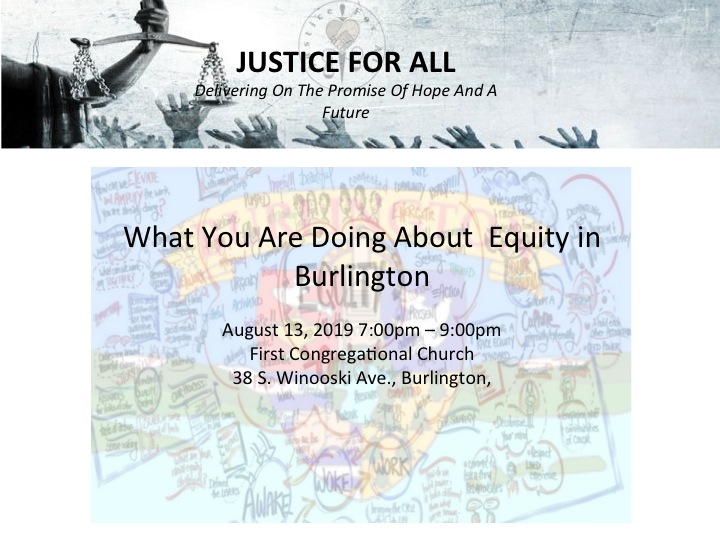 The "What Equity Looks Like in Burlington" meeting was overwhelmingly productive and we're excited about continuing the discussion. First, would you mind providing some feedback on your experience? This is important to enable us achieve desired outcomes. This is something that you can do to affect change in addressing equity in Burlington.
Secondly our next meeting, "What We Are Doing About Equity in Burlington" will be August 13th from 7:00 till 9:00pm. This is an action-oriented meeting. Please place this on your calendar. Expect weekly highlights, leading up to this meeting. Here's todays highlight:
Equity Highlight
Equity in City Administration
Our City Administration Group decided that three of the most important things that WE can do to address equity in City administration is to identify active community spaces (to facilitate outreach); create a position in the City government to review equity, and; attend City Council Meetings and hold officials accountable for achieving equity goals. City Administration Team, thank you for your concise output from your discussion.
Here is a HUGE opportunity to show up as a community and take responsibility for what equity looks like!
There will be a meeting of the full City Council on Monday, July 15th at 7:00pm. The Council will be taking up a Resolution that creates a standing Committee and a full time position (that reports to the Mayor) for Diversity, Equity and Inclusion. Take a look at the Resolution, reach out to your City Councilor and show up to voice your opinion and/or concerns. This is what equity looks like!
Don't forget about the film viewing (Slavery by Another Name), this Sunday, the 14th of July and the Justice For All Organizing Meeting on Wednesday, the 17th of July. Both events will be at the First Congregational Church, 38 S. Winooski Ave., Burlington.

Can you help us with the work that we are doing? Your small donation has an immediate impact on the vitality of this important work. Support this work because the proven results that Justice For All consistently delivers affects YOU! Provide a quick, secure contribution here:

CLICK here and help us do the work

Would you like to be a continuing supporter to this important work that we have ahead of us?
CLICK here!
Justice For All pursues racial justice within Vermont's criminal justice system through advocacy, education, and relationship-building.
Would you like to Become a member?