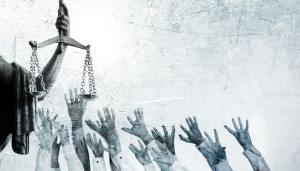 Partners,
As fall quickly approaches, we are excited to update you on some upcoming activities. Nothing is more important to us than continuing the work of addressing racial disparities in the criminal justice system and beyond. Please do what you can to support the announced activities below. We also ask for your financial support to enable us continue to move the work forward. Below you can find a number of ways that you can provide support.
Racial Disparities Panel 
The first meeting of The Racial Disparities in the Criminal and Juvenile Justice Systems (created by H.308) happened on August 29th. The meeting was open to the general public.  Attorney General T.J. Donavan gave passionate opening remarks and the Panel moved to appoint Christine Longmore as the Chair and Mark Hughes as the Vice Chair.  The panel charge was reviewed and it was agreed that the Panel would meet in the evenings in moving forward to ensure that the general public has the ability to attend.  There was a discussion on priorities and input and questions from the general publicThe next meeting was tentatively scheduled for September 21st at 6:00 PM.  You can find the Panel membership and the Legislative charge to the Panel here. 
H.308 Addressing Systemic Racism in other Systems
H.308 (The Racial Disparities in the Criminal and Juvenile System Advisory Panel) calls for the Attorney General, the Human Rights Commission and interested stakeholders to "develop a strategy to address racial disparities within the State systems of education, labor and employment, access to housing and health care, and economic development."  There will be a meeting of Stakeholders at the Statehouse, in room 10, on September 28thfrom 2:00 till 4:00 PM.  The goal of the meeting is to gather sufficient information to enable the Attorney General and the Human Rights Commission to provide the Justice Oversight Committee with the requested strategy for moving forward in addressing racial disparities in these systems.  The Stakeholders invitation with initial questions and stakeholder groups can be found here.  The Attorney General and the Human Rights Commission are required to jointly report on the strategy to the Justice Oversight Committee on or before November 1, 2017
The NEW Poor People's Campaign
Join us on the Poor People's Campaign.  Our next meeting will be on September 17th at 6:00 PM at the Peace and Justice Center in Burlington at 5:30 PM.  The Poor People's Campaign: A National Call for Moral Revival will necessarily be a multi-year undertaking. The Summer of 2017 through the Spring of 2018 will be used as the public launching of the Campaign. By engaging in highly publicized civil disobedience and direct action over a 6-week period in at least 25 states and the District of Columbia during the Spring of 2018, the Campaign will force a serious national examination of the enmeshed evils of systemic racism, poverty, militarism and environmental devastation during a key election year while strengthening and connecting informed and committed grassroots leadership in every state, increasing their power to continue this fight long after June 2018.
https://www.facebook.com/events/2046070795676711/
ANTIGONE IN FERGUSON
Theater of War
Friday & Saturday
September 15 & 16, 2017
8:00 pm
Featuring Tracie Thoms (Rent, Falsettos, The Devil Wears Prada)
and Zach Grenier (The Good Wife, Deadwood, Fight Club)
and Dartmouth College Gospel Choir
"A play that speaks to Ferguson's tragedy and lets the audience speak back." PBS News Hour
Seeking a way forward after the 2014 police killing of Michael Brown, leaders in Ferguson, MO, called on Brooklyn-based Theater of War, which addresses community traumas through staged readings—by some of today's most sought-after actors—of ancient texts. Together they created Antigone in Ferguson: Sophocles' 2,500-year-old tragedy about a clash between personal convictions and state law, punctuated by soul-searching gospel songs by Ferguson singers (joined here by members of the Dartmouth College Gospel Choir). Afterwards, cast and audience engage in an honest, open discussion of how the play pertains to our own communities and where to go from here. Guest respondents for these discussions include racial justice activists, students, and members of law enforcement from New Hampshire and Vermont. Saturday's performance will be American Sign Language interpreted.
Trailer: https://www.youtube.com/watch?v=E5hmgDRA1pw
Location: The Moore Theater, Hopkins Center for the Arts at Dartmouth College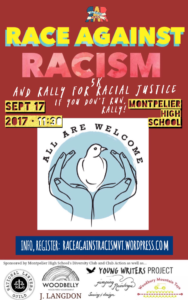 Run Against Racism September 17th
Come to run at 11:30 or join us for the rally 12:30. The 1st Annual Race Against Racism is a rally and an inclusive community walking and running event.
https://www.facebook.com/events/1675800779128969/
Support Us
Over this past year we worked in a coalition to successfully deliver the Vermont Fair and Impartial Policing Policy, Law Enforcement Professional Regulation and the Racial Disparities Panel . Our work continues with numerous community outreach activities, Vermont Justice Coalition, Coalition on Racial Justice Reform and much more but we need your help to continue.
Do your part in helping Justice for All continue the work of addressing systemic racism in the criminal justice system and beyond. You can donate any amount here.  If you want to make an enduring commitment consider a small monthly donation to Justice For All.  We could sure use your support!
Interested in membership or organizational support?
Don't forget our monthly general meeting (every third Thursday) at the Unitarian Church, in Montpelier.
Thank you!